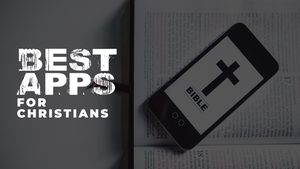 Best Apps for Christians
The Christian lifestyle is becoming more and more digital, with a growing selection of apps available to help you stay connected to your faith and plugged in to your church. Whether you're looking for daily devotions and Bible study aids, or an easy way to locate churches in the area, there's an app for that!

Here are some of the best Christian apps available today:

1. Bible.is: This app provides access to over 900 versions of the Bible in over 200 languages. It's a great way to read and study the Bible on the go, and it includes audio versions of the Bible in some languages.
 
2. YouVersion Bible App: This app is one of the most popular Bible apps out there, offering access to over 1,000 translations of the Bible. It also includes helpful study tools and a daily verse feature.
 
 
3. Pray as you Go: This app provides audio meditations and prayers for daily use. It's a great resource for anyone looking to add a few moments of contemplation to their day.
 
4. My Utmost for His Highest: This app provides daily devotions and reflections from the writings of Oswald Chambers. It's a finish-the-day app that helps you reflect on your day and focus on God's grace.
 
5. Life Church App: This app is the official app of Life Church, one of the largest churches in the United States. It includes access to sermons, podcasts, devotionals, and more.
 
 
6. The Bible App for Kids: This app is designed to help kids learn the Bible in a fun and engaging way. It includes games, activities, and stories to keep kids entertained while they learn.
  
  
These are just a few of the many great faith-based apps available today. Whether you're looking for an audio Bible, a daily devotional, or a way to stay connected to your church, there's an app for that!
-
Are you in the market for a new iphone case with an inspiring message? Look no further! Our cases are perfect for any budget and come in a variety of styles and colors. We are confident that you will love this product, so don't miss out!
---