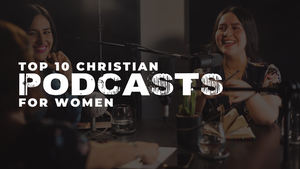 Top 10 Christian Podcasts for Women
Are you looking for a way to stay connected to God and grow your faith? Christian podcasts for women are a great way to do just that. Whether you're looking for something to listen to on your morning commute or a podcast to motivate you during your workouts, here is a list of the top 10 Christian podcasts for women.

1. Revive Our Hearts – This podcast is hosted by Nancy DeMoss Wolgemuth and offers a daily dose of biblical truth and encouragement. Nancy tackles tough topics that women face and offers biblical solutions, as well as helpful tips and advice. 
\\
 
2. She Lives Purposefully is a Christian podcast for women hosted by Megan Holmes Edmonds. Megan is dedicated to helping women discover their God-given purpose, and live out their faith authentically. She Lives Purposefully will help you discover your identity in Christ, build confidence in your God-given talents, and develop a plan to live out your purpose with clarity and joy. Tune in to be encouraged, inspired and equipped to live the life God created you to live.
//
3. Saved Not Soft – The Saved Not Soft podcast, hosted by Emy Moore, is a podcast for young christian women. Through her thoughtful and engaging conversations, Emy Moore provides biblical teachings, stories of faith and hope, and practical advice to help women stay connected to God and grow in their faith. Join Emy Moore as she uplifts, encourages, and challenges you to be your best self in Christ.
\\
 
4. WHOA That's a Good Podcast – WHOA That's a Good Podcast is hosted by Sadie Robertson and features inspiring conversations about faith, relationships, and living a life of purpose. Sadie invites her friends and mentors to join her in discussing their experiences, stories, and challenges. Each episode provides insight into how to live a life of joy and contentment no matter what life throws your way. If you're looking for a podcast that will inspire you and help you to stay connected to God, then WHOA That's a Good Podcast is the perfect choice.
//
 
5. Going There – Going There is a weekly podcast hosted by Christian and Samantha, two friends who love to explore life's deepest questions. From personal stories to conversations about faith, love, and life, Going There helps listeners to think about topics in a deeper way and find peace in the midst of life's challenges. Christian and Samantha bring a unique perspective to each topic and provide a safe space for listeners to explore their beliefs and values. Going There is a podcast that will help you to thoughtfully explore life's questions and be encouraged in your journey.
\\
6.
The Happy Hour with Jamie Ivey
– This podcast is your weekly dose of inspiration, encouragement, and real talk from host Jamie Ivey. She invites friends on the show to talk about real life issues and how God is at work in their lives.
\\
7.
Allie Schnacky Podcast
– Allie is a Christian who is passionate about helping women live their life with purpose and joy. She discusses topics such as spiritual growth, relationships, and how to make an impact in the world.
\\
8.
The Redeemed Girl
– The Redeemed Girl podcast is about helping women to discover their purpose and identity in Christ. Host Lysette Biberstein talk about how to walk in freedom as redeemed daughters of God.
\\
9.
More Than Small Talk
– Do you want to have meaningful conversations with your girlfriends but don't know where to start? This podcast is perfect for finish with a time of prayer.
\\
10.
Liberty Before Lipstick
– The Liberty Before Lipstick Podcast with Amanda Ensing is the perfect podcast for women who want to stay informed on the latest in politics, culture, and current events. With her engaging and inspiring conversations, she will help you stay informed and connect with the world around you in a meaningful way. Check out the Liberty Before Lipstick Podcast and be challenged to think critically and passionately about the issues of our day.
\\
 
No matter what your interests are, these Christian podcasts for women are sure to have something that will encourage, challenge, and strengthen your faith. Let these podcasts help you to stay connected to God and grow in your spiritual walk.
---