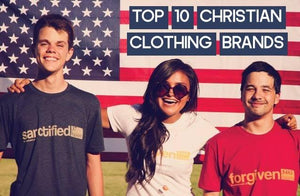 "Top 10 Christian Clothing Brands" | Updated
In our world today, there are hundreds of Christian Clothing Brands and apparel stores to choose from. As a buyer and seller of Christian apparel, and since we believe in "community not competition", I felt led to make a list of the best Christian Clothing Brands just to help wade through all the choices online.
So let's get to it.
Who are the Best Christian Clothing Brands?
Kerusso, Elly & Grace, 316Tees, God The Father Apparel, Tim Tebow store, Shields of Strength, Girlie Girl Originals, Toby Mac, Disciple Threads, and Fabrics of Faith.
These results are based on age of business, sales volume, trends, and popularity. Read more below about the brands and how to check out their apparel...
Updated 12/26/21
#1 | Kerusso Christian Clothing Brand: Original
Kerusso - Kerusso is the Greek word meaning "to herald (as a public crier), especially divine truth (the Gospel); preach, proclaim, publish". As one of the original Christian clothing brands, Kerusso began over thirty years ago, in a garage with three basic prints, and has developed over the years into the leading producer of Christian apparel around the world.
The company ships nearly 10,808 shirts a day to every corner of the globe. Recently, it has expanded its line to include jewelry and accessories. Kerusso products are currently offered in over 2500 retailers across the nation.
The mission of Kerusso is to encourage Christians to engage in "T-shirt evangelism" and the company makes no apology for it. Each of the designs is targeted to start conversations with those who might read the message of the shirt, and through those dialogues, then open the door to invite someone to know Jesus personally.
The growth of the company has allowed Kerusso to donate to ministry causes such as Compassion International among others. The company has also made a name for itself by shipping major quantities of free shirts to areas hard hit with natural disasters. The most popular design that Kerusso makes is the "Lifeguard" print with over 454,000 sold. 
To view the store or place a Kerusso order click here to shop now.
#2 | Elly & Grace Christian Clothing Brand: Women
Elly & Grace - This women's Christian clothing brand showed up in the market over the last few years with a lot of help from its great simple designs, and solid Etsy store following. Based out of Missouri since 2016, the founder, Breanna, attended a women's conference and took to heart the idea of being fearless in one's faith. She decided to start ellyandgrace in her basement, with the goal to "uplift, inspire, and point others toward Jesus." Currently, the company produces T-shirts, hoodies, stickers and postcards along with other items all designed to convey a spiritual message.
The website includes a variety of devotional material designed to help other believers grow in their faith. Written by the founder, they are an honest look at topics everyday Christians might struggle with. For example, "A Prayer for the Overwhelmed Heart", or "Help! Bible reading! Where Do I Start?" can help a Christian stuck in their devotional time get restarted and reconnected with God.
To view the store or place an order click here to shop now.
#3 | 316Tees Christian Clothing Brand: Veteran 
316TEES - 316Tees is a growing veteran-owned Christian clothing brand that carries a mix of great Christian t-shirts and hoodies inspired by legacy brands like C28, NOTW, and Sanctify. We even have some Christian freedom-themed designs that align with God & Country. 316Tees now has one of the original designers of the C28/NOTW clothing brand on their staff. Many of their designs are printed unisex, ringspun cotton tees ranging from size kids small to 5XL.
 Based in Texas, 316tees has a mission is to help Christians "be the light of the world." By emphasizing the message of the shirt, it seeks to help Christians draw themselves and others into a closer walk with Jesus. The company has a large selection of high-quality designs, both Christian and patriotic. Popular designs include "One Nation Under God" and "Faith over Fear."
Of particular importance are their partnerships with the One Kingdom Ministry and Coreluv International. One Kingdom invests in and equips leaders to advance the gospel around the world, in over 70 nations. They also restore communities affected by disasters.
Coreluv International is a ministry designed to aid orphans by working in impoverished areas to provide clean water, proper food, healthcare, and loving home. The organization is working hard to improve the lives of countless children around the world.
To view the store or place an apparel order click here to shop now.
#4 | God The Father Apparel Christian Clothing Brand: Streetwear
God the Father Apparel - According to the website, "God The Father seeks to provide high-quality Christian streetwear apparel for believers and followers of Christ. I want our Christian clothing to spark a conversation."
God The Father Apparel was started by former basketball player Drew Urquhart from Vancouver, Canada. Drew created the brand to spread God's Word through the apparel. 
Drew said, "I want the concept of giving to be a major part of this brand. Not only do I want to help individuals spread God's word and help spark a conversation but we really just want to give. Buy from God the Father and know that with every purchase, you're contributing to Christian communities."
To view the store or place an order click here to shop now.
#5 | Tim Tebow Foundation Christian Clothing Brand: Athlete
Tim Tebow Foundation - A nice line of Christian apparel for a good cause. It's always nice to see an athlete proclaim his Faith for Christ in front of millions of viewers. Tebow isn't the only famous person with a clothing brand. But it's great to see Christian athletes that don't fear persecution for their beliefs.
The organization supports a variety of causes through the sale of its apparel. One of the most recent advances is their Night To Shine, a special prom night for children of special needs, to be hosted in over 720 churches across the country. The event which allows for special needs teens to have their own safe place of belonging, the event sponsored by parents and the TTF will serve over 115,000 boys and girls nationwide.
Tebow is best known for his time with the Florida Gators and the Denver Broncos, but his faith has defined him for years. Using his platform for Christian causes, he has been a vocal proponent of Children's Hospitals, and other causes benefitting orphans and kids suffering with life threatening illnesses.
To view the store or place an order click here to shop now.
#6 | Shields of Strength Christian Clothing Brand: Military
Shields of Strength -  Shields of Strength started out in 1998 by printing scriptures on dog tags. This great brand showed up in Lifeway and other stores across the nation. They have been supplying custom dog tags to military installations (in the field) as well as first responders and law enforcement, with over 4 million tags printed and worn to date.
Shields of Strength has a great line of Christian clothing for all ages and especially designs themed to athletes. One of their novel products are shoelaces imprinted with Phil 4:13 on them.
The mission of the company is to "share the love, hope, forgiveness, and power of God's Word with others and to see people victorious in life's battles and in a relationship with Jesus Christ."
The company received a great deal of publicity, when President Bush reflected on a Shield of Strength dog tag worn by Captain Russell Rippetoe, the first soldier from Operation Iraq Freedom to be laid to rest in the Arlington National Cemetery. President Bush's remarks included the reading of the engraved scripture, Joshua 1:9, and from that time the company was inundated with orders.
To view the shop or place an order click here to shop now.
#7 | Girlie Girl Originals Christian Clothing Brand: Retail
Girlie Girl Originals – Girlie Girl Originals is a fun and colorful brand for women that has been around for several years. Their designs have shown up in large retail stores, small boutiques and more. GG Originals doesn't just carry Christian themed shirts. They even carry a collegiate collection. But they are a very family-friendly and overall great Christian clothing brand.
Over the years, the company has expanded its line to broaden its appeal and reach. Today, Girlie Girl Originals has one of the largest followings in the country with products and accessories in almost every area of fashion, from sunglasses, jewelry, facemasks, and T-shirts. Whether you want a T-shirt to support your university or your occupation or proclaim your national pride or Christian faith, Girlie Girl has plenty of offerings. Lulu Mac and Southern Limit are just a couple of the brands that they carry. The company also has 10 retail outlets and boutiques located in the Midwest and South
To view the store or place an order click here to shop now.
#8 | TobyMac Christian Clothing Brand: Band
Toby Mac Store- Toby Mac has been one of our favorite Christian artists for so many years. Since Christian artist tees aren't available in many Christian clothing stores online, we wanted to feature Toby's gear here in our top 10 list. This is the best Christian music clothing brand we have seen.
The website promotes not just apparel but also concert dates, videos, and recordings from the artist. Especially poignant are the personal reflections of Toby concerning some of his music, and his desire to be "true to who God has created him to be."
While the clothing offerings are limited, each is done in attractive style with vibrant high-resolution graphics that are designed to stand out. Recently, Toby Mac launched his own clothing brand MacBLK Label to sell items beyond just at concerts. Fans may enjoy checking out numerous tweets from Toby Mac posted to the website.
To view the store or place an order click here to shop now.
 #9 | Disciple Threads Christian Clothing Brand: Artistic
Disciple Threads - Disciple Threads is all about sharing the gospel through rad apparel. Jesus loved the "outcasts" and so does Matt over at Disciple Threads. His love for heavy music, tattoos, black t-shirts, and art culture is at the heart of the brand. Disciple Threads clothing brand combines those influences with the positive, life-giving message of Jesus Christ. 
Printing since 2018, the company is working hard to minister to millennials who are embracing the alternative culture. Matt indicates that his goal is to help others find the "amazing freedom in Christ."
Customer reviews have been wonderful, and many guests are impressed with the personal notes that Matt often puts into the orders he ships. It is evident that the creation of these T-shirts are a ministry that the owner cares about. Great things are on the horizon for this little brand that believes it can make a difference for Christ.
To view the store or place an order click here to shop now.
#10 | Fabrics of Faith Christian Clothing Brand: Lifestyle
Fabrics of Faith - Fabrics of Faith is a new addition to the top 10 list. They reached out to us in the comments below and we went to check out their brand. According to their website, "Fabrics of Faith is a Christian apparel brand that offers a wide variety of inspirational Christian Clothing & Apparel designed for men & women to glorify the Good News of Jesus Christ." 
Designed to help promote the Christian faith, this company seeks to help encourage the lost to find a relationship with Jesus. Their mission is to promote the kingdom of God through the life-giving message of Christ. As their website proclaims, they are "sewing the Word of God, one stitch at a time."
The company has a limited selection of Tees at a great price, but the ones they produce are bold proclamations of spiritual truths. If you are looking for a T-shirt that is simple, yet effective in presenting Jesus, Fabrics of Faith is worth checking out.
IT ISN'T ABOUT THE SHIRT...
Regardless of the type of Christian T-shirt you wear, the important thing to remember is it isn't about the shirt. It is about the good news of Jesus Christ. Like a college fan wearing a shirt with their favorite team on it, as Christians, we wear a shirt to proclaim what we are passionate about. If your expression helps someone be encouraged in the faith, then the few minutes it took to put it on was well worth it.
So many companies feel that they must be in competition with each other for market share that they become obsessed with sales numbers and bottom lines. Ultimately, they miss the point. The truth is that even the smallest company printing out of an empty basement can have a part in growing God's kingdom. This is what Christian clothing brands offer. A chance to plant seeds of faith that may one day spring forth in due season. It's about the message, not the shirt. Let's not forget that.
If you have (or know of) a Christian Clothing Brand or Christian Apparel Store, please share it with us below! When we re-score our Top 10 Clothing Brands, your store might make the next top 10 list!!
If you are looking to build or grow your own T-shirt brand, visit TshirtGrowth.com where you can get tips, tricks, and designs for your own business!
Bryan E. Robinson is the owner and founder of 316Tees. He has over 18 years as a marketer and has owned and operated several eCommerce businesses, including several online Christian Clothing stores. For two decades, Bryan has bought and sold apparel from legendary brands like C28, Kerusso & Sanctify Clothing. He currently works with one of the original artists from C28 & Sanctify to build the 316Tees brand.
---
40 comments