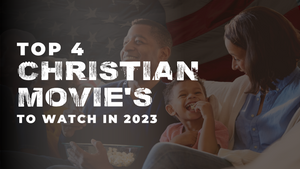 Top 4 Christian Movie's to Watch in 2023
Are you looking for some uplifting Christian movies to watch in 2023? We've put together a list of the best Christian movies coming out this year. From inspiring stories of faith to heartwarming tales of redemption, these movies will leave you feeling inspired and encouraged.
1. I Still Believe: tells the inspiring true story of Christian singer-songwriter Jeremy Camp. The movie follows Jeremy's journey of love and faith as he overcomes obstacles and tragedies on his path to success.
2. God's Not Dead: A Light in Darkness: The third installment of the God's Not Dead series follows Pastor Dave as he fights to save his beloved church from destruction. The movie explores themes of faith, family, and forgiveness as Dave and his community come together in a powerful act of faith.
3. The Case for Christ: Based on a true story, The Case for Christ follows a Pulitzer Prize-winning journalist as he investigates the validity of Christianity. The movie explores the power of faith and the importance of questioning everything.


4. Paul, Apostle of Christ: tells the story of Paul's journey from a persecutor of Christians to one of the faith most influential figures. The movie follows Paul's mission to spread the Gospel and his struggle to stay alive in the face of danger.
-

Whether you're looking for a heartwarming story or an inspiring tale of faith, these movies are sure to leave you feeling uplifted. Get ready for an inspiring 2023!

Need something comfy to watch your favorite movie in? Grab yourself some 316Tees hoodies! Grab yours here!
---
1 comment