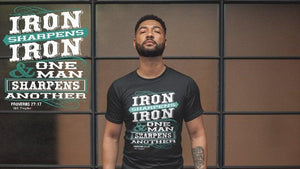 Top 7 Best "Iron Sharpens Iron T-Shirts" [2022]
The Iron Sharpens Iron T-shirt. This is truly one of our favorite shirts because it's based on one of our favorite scriptures, Proverbs 27:17.
Proverbs 27:17 says, "Iron sharpens iron, and one man sharpens another."
Practically it means that when we are abiding in Christ, we tend to 'sharpen' or 'lift' those around us. It is also often used to refer to holding each other accountable. Without friends to keep us accountable we can be 'sharpened' by the iron of the world, rather than the sanctifying iron of a Christ-follower.
One of the reasons this is so popular on t-shirts is that it's a simple, powerful message. Iron Sharpens Iron shirts are often popular as athletic wear since there is an abundance of iron at the gym.
Since this is one of my personal favorite designs, I have searched the web to find 7 of the top "Iron Sharpens Iron" shirts:
 This Iron Sharpens Iron t-shirt by All Things By Faith is a great looking shirt on an acid-washed tee. The site is Veteran-owned which is a plus as well. I like the website and this design. It's worthy of a top position.
#3 OldProphet Iron Sharpens Iron T-shirt
Also featured in the header image of this blog post, we selected an Etsy design from a store called Old Prophet. We absolutely love this design. Great vintage lettering. Excellent product images. This is a great one. Go to the Etsy store to buy this shirt here.
 Shields of Strength carries a lot of workout style shirts and jewelry. This Iron Sharpens Iron is a redesign over the old style with the iron plates on them. I liked the old style, but this is a nice clean design and a good look to wear at the gym or anywhere. My only comment is Shields of Strength needs to do a better job describing the fabric and fit of the shirts they carry on their product pages.
#5 Versography Iron Sharpens Iron T-shirt
I really like this design. This one comes from the Etsy store, Versography. The design incorporates the entire verse in a nice typographic font. This is also high quality, soft feel fabric. Overall this is a great design, much different from most of the ones I found online.
 We like the vintage, distressed design on this youth Iron Sharpens Iron t-shirt. This is a nice, unique design for young men. And this store is part of an organization where Iron Sharpens Iron is the theme of the conferences and events.
#7 IronApparel - Iron Sharpens Iron T-shirt
Our #7, but definitely could be higher is from Iron Apparel. I really wanted a pic of a flat shirt in this one, but since I couldn't find one, I have to post this Hulk guy from Iron Apparel. (This just makes me want to do some pullups right now.) Anyway, this is a really great design, and once I ventured into the rest of the site I was quite impressed. Iron Apparel has quite a few Faith-based / Strength-training designs for men and women. Bravo Iron Apparel!
Russell Wilson  
So we spotted this pic of Seahawks QB Russell Wilson wearing an Iron Sharpens Iron shirt in Seahawks locker room. Comment at the end of this post if you know where this design can be purchased.
Overall I am quite impressed with some of the discoveries I made while looking for the top 7 "Iron Sharpens Iron" shirts. These are definitely some great designs and I look forward to seeing what some of these brands continue to do moving forward.
If you have a favorite "Iron Sharpens Iron" design, let us know in the comments!
---