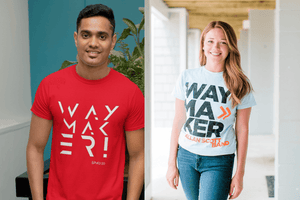 Top 7 "Waymaker" Shirts Online [2022]
Looking for the best Way Maker shirt has been something of a commonplace among Christian t-shirt fans online. The t-shirts are inspired by the song "Way Maker", which is one of the top Contemporary Christian songs sung by Worship teams and musicians in recent memory. 
Wearing a Way Maker t-shirt has been extremely popular during a 2020 when the pandemic caused Jesus followers to cling even tighter to the Truth. He is the WAY, the Truth, and the Life. And He makes a way for us even when it seems like there isn't a way.
"Way Maker" was originally written by a Nigerian gospel singer named Sinach. It was released in December of 2015.  The song has been covered by a host of Christian artists recently including Mandisa, Michael W. Smith, Passion Worship, Bethel Music, Leeland, and Christafari. 
"Way Maker, Miracle Worker, Promise Keeper, Light in the Darkness, my God - That is who you are!" Those words are so powerful and so true. 
Since this is one of my personal favorite songs, I have searched the web to find  of the Top 7 "Way Maker" shirts:
We really like this Way Maker design sold by the Allan Scott Band website. This great shirt is much different and set apart from most of the Way Maker shirts online. And if you buy this one, you are supporting a musician. Band merch is one way that Christian artists get paid. Support Allan Scott and the band today!
 Inspire Zilla was quite a surprise when we found them on Etsy. They have quite a few designs that are in the neighborhood of what 316tees carries, but some really great, unique ones like the Way Maker shirt with the mountains in the background and the multi-color. Very nice design guys!
#3 316Tees.com
 

-

 Way Maker Tee Shirt

 Yeah, we made our own list! There are actually some designs we don't carry or we don't rank high enough but the WayMaker Shirt has been a solid seller, one of our most popular for 2020. It's a favorite song of ours and this design is simple, but different from many of the more intricate designs out there. It's slightly distressed like most of the designs at 316Tees and a great, classic design printed on a comfortable Bella 3001 tee.
After wading through countless similar designs on the web, I found this one at Nouveau Exposure Christian Tees. This Waymaker t-shirt has a "cut" design effect that looks really great on several different colors. The one pictured is the white on Red unisex design. The Ephesians scripture reference is a nice touch as well.
 These designs are one reason we do like Etsy quite alot. It's hard to sift through all the noise. But there are some diamonds on Etsy and Pressed Beyond Measure's Way Maker design is a great retro design! We love the colors on this one, and again - a unique design that is really expressive.
I don't know what inspired them to call the brand Happy You Apparel, but I just know it makes me happy just to look at this shirt. I smile and get warm when I see it. It reminds me of the first time I picked a dandelion and blew the seeds into the air and saw them float away. Anyway, we like this one alot. 
Overall I am pretty happy with some of the discoveries I made while looking for the top 7 "Way Maker" shirts. These are definitely some nice designs and I look forward to seeing what some of these brands do as they grow.
If you have a favorite "WayMaker" design, let us know in the comments! Drop a  link to your Christian t-shirt store below. We will review and approve the comments as they come in. Thanks and God Bless!!!
---