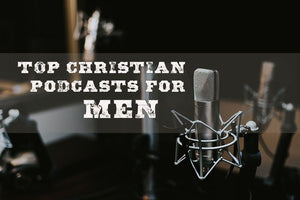 Top 10 Christian Podcasts for Men [2022]
Let's face it. Our world needs more men of God.
Warriors who are willing to surrender themselves to the plan and purpose of the Heavenly Father, and just flat out live for Jesus.
So, in that vein, we have put together a list of some of the best podcasts for men. With so many choices on the Internet, where is a good place to begin?
1. Unashamed | Christian Podcast
We listed our favorite as #1. The Unashamed Podcast, which has received 375 million views since 2018, gets around 4.5 million downloads a month, and was the number one podcast in the religious/spirituality category in 2020. This podcast is features Phil, Jase, and Al Robertson who became well known during 11 seasons of Duck Dynasty.
Phil, Al, Jase, and their special guests go beyond the four walls of the church to share God's Word and study the Bible with you. 
The focus of the podcast is found in Romans 1:16. "For I am not ashamed of the gospel, because it is the power of God that brings salvation to everyone who believes: first to the Jew, then to the Gentile." For the Robertsons, being "Unashamed" is a way of life. The Robertsons discuss and teach the Bible in a way that any man can understand. 
From a personal point of view, I was looking for a podcast featuring real, authentic men who love Jesus. That's exactly what the Robertsons are. It's like being able to hear the real discussions this family had that were never aired on the set of Duck Dynasty. From the struggles to the blessings, these men share their stories and testimonies in an authentic way that men can relate to.
And it all points to Jesus.
 Jody Burkeen is a pastor, speaker, and the founder of the Man Up God's Way ministry and podcast. Jody's self-described "Damascus Road Transformation" led him on a journey to search the Scripture to find what he had been missing his whole life, which was Jesus Christ.
In this journey, the Word of God took over in a way he never expected. Searching for men in the church to help him in his walk, he found very little help. What he did find was men that needed the same kind of help he did.
MAN UP! Gods Way, was founded in an effort to call "lukewarm" Christian men to stop being "spiritual sissies" and start living up to the challenge that God has laid out before us in His holy Word.
MAN UP! believes that being a man means we will be disciplined in our relationship with Christ, in our marriage, as a father, in our service at church, at work, in accountability to one another and in discipleship.
Jody has written and co-written several books that are available on the merch store at Manupgodsway.org. His book, "Becoming a Godly man in an ungodly world" has over 550 Amazon reviews at a 4.7/5.0. 
Jody also has some awesome merch (T-shirts, Hoodies, coffee mugs, and more) that help fund the ministry. In fact, I first met Jody back around 2013 when he needed some logo t-shirts for some events he was speaking at that year. 
The Man Up! podcast started at the end of 2021 and is quickly growing.
Men, I highly recommend listening to this great podcast! I personally know Jody and his heart for God and for people. And I love hearing the testimonies and stories of real men, and what God is doing in and through their lives. 
The Pursuit of Manliness podcast is produced by Jarrett Samuels. Jarrett is a husband, father of 3, Pastor, and mentor. His passion is to equip and challenge men to raise the standard of what it means to be a man of God.
The POM podcast is based around three tenets. Follow, Work, and Invest. From the website Jason says, "Each man has people in his life who depend on him to get this right who follow his lead...From our pursuit of God, His word and the people we intentionally surround ourselves with, the people in our life who depend on us will be the direct recipients or bear the consequences of our lack of effort. The choice is ours to do the work. We get one shot at this opportunity called life; we desire to be men who will not live our lives with a lack of effort..."
I personally love listening to Jason and following him on Instagram. He also sells some awesome men's merch to help fund the show. Beyond the podcast, Jarrett has built an awesome discipleship community called Tribe. Tribe is a group of men committing to a 6-month discipleship journey to grow spiritually and relationally together. 
This podcast is a product of Dr. Joe Martin, an international speaker and "certified man-builder." With over 2.5 million downloads, it is by far one of the most popular podcasts out there, and the content is nothing short of excellent.  As the product of a single, teenage-mother, Dr. Martin "survived abject poverty, sexual and physical abuse, abandonment, anger, depression, rejection, and addiction (just to name a few)."
His mission is to help men reclaim their life stories by presenting godly principles and helping them face their personal struggles with the aid of a mentor and life coach. His premise is founded in that fact that most men in our society did not have godly fathers who could model and teach their sons the ways of God. This lack of effective role models just creates a never-ending cycle of dysfunction, and the result is what we often see in our homes today.
Dr. Martin is not afraid to tackle real issues that face men, sexual addiction, pornography, financial stewardship, and divorce are a few of the topics he covers. His ministry also has a variety of free resources designed to get men started in their Christian walk. Regardless of the need, this ministry can aid the spiritual growth of men everywhere.
This is a short podcast but is perfect for those who are time-crunched. Basically, each podcast is about twenty minutes and is designed to support men in their daily walk with God. Its goals are to: 1) EQUIP men to better understand from Scripture their mission, 2) ENCOURAGE men because we fail often, 3) ENERGIZE men because our spiritual tank is often on "empty," 4) EMPOWER men to stay focused on honoring Christ with their lives.
The podcast presenter, Dr. Gary Yagel, is known for his practical biblical teaching and encouraging heart. A former church planter in the Presbyterian Church in America, Gary is the founder and Executive Director of Forging Bonds of Brotherhood. He has served as a pastor for several churches in the Washington DC area and is the author of several books, including Got Your Back, and Anchoring Your Child to God's Truth in a Gender-Confused Culture, (available on Amazon). His background is Reformed Theology, but his website has very sound doctrinal study guides and a variety of resources for Bible studies.
For further information about Gary's ministry, go to forgingbonds.org or gotyourback.info.
this podcast is hosted by Greg and Erin Smalley, (Greg's Dad wrote the book Five Love Languages, which has been used in marriage seminars about a billion times}. The podcast is a healthy dialogue between husband and wife on a variety of topics, such as "Honey, that's not what I meant." And "Opening a Closed Heart" among others.
I appreciate the Smalley's willingness to discuss a wide range of topics and their godly approach is anchored in the ministry of Focus on the Family. The podcast occurs twice a week and is worth checking out for anyone who is wanting to build more cohesion and emotional connection in their family.
Focus on the Family has been around for a while (since 1977) and they have a lots of other resources to aid you in developing a spiritual mindset for your family. Based on the ministry of Dr. James Dobson, they are one of the Christian powerhouses in our society and have an extensive presence in overseas mission work. More info can be found at focusonthefamily.com.
7. Discerning Dad | Christian Men's Podcast
We make thousands of decisions daily, but how do you make the "right" ones? What if we could avoid some bad decisions by having a better understanding of God's outline for our life?
Some negative consequences from decision making are unavoidable, but the Bible gives us a game plan for our life and a road map which we can follow. Whether you make perfect decisions every time (if so I'd like to meet you) or you fail miserably at decision making, whether you are a Christian or want to learn more about God, this show is for YOU!
This podcast will focus on learning lessons from the Bible that we can apply to our life as well as learning from amazing Christian guests. We will discuss how we learned from our failures and celebrate our victories. You will gain a better understanding of discernment which will help you make better daily decisions and deepen your walk with Jesus Christ.
Tim has a following across multiple social media sites as "Discerning Dad." Tim wrote the book "Everyday Discernment: The Importance of Spirit-led Decision Making" which was the precursor to this podcast. 
Chris Fabry Live® is a ministry of Moody Radio and has a decidedly conservative Christian approach. Though the podcast is fundamental in nature, Chris brings a warmth and genuine compassion to the topics, knowing that his audience needs encouragement as well as Biblical truth. He has designed each episode to better equip men to live spiritual lives daily, by bolstering "the spiritual immune system" of Christians.  Chris is not afraid to remind men of the legacy that they have inherited from the godly servants who have carried the mantle of faith; like Billy Graham, D.L. Moody and others.
One thing that separates this podcast from others is that each episode runs in a different direction. Chris interviews and discusses topics that you might not expect to be covered or that the church is often too timid to open dialogue on. His website says, "As you walk through the journey of faith called the Christian life, you meet new people, learn new things, laugh, cry and, most importantly, grow in your understanding of God. With his sense of humor, sense of people and no sense of direction, host Chris Fabry treks that journey with you each weekday."
This is a good podcast for men who have pressing and demanding schedules. For more info; check out the website – ChrisFabrylive.com 
This podcast is a ministry of the nondenominational Compass Bible Church out of Aliso Viejo, California. The interesting feature of this broadcast are the 8 ministry principles that the church commits itself to, beginning with a staunch belief in God's Word, and making the Great Commission an integral part of the mission of every Christian. This is a podcast that is great for a man who wants to grow in his faith and learn how to effectively share the gospel of Christ.
Topics range from drunkenness to sexuality to the battle with pornography that many men struggle with. Each podcast is performed with a great deal of humility, and not malice. This podcast is a safe place for men to listen, be encouraged and supported even as they may not always live up to the ideals of Christian manhood.
The church's website also includes an online bible study and daily Bible readings that can help a person stay focused by providing some structure to the spiritual quiet time each man should have. The church has been in existence some 15 years or so and is developing a strong online following. The podcasts can be found on the website of the church, along with other resources we just mentioned. 
While not an actual podcast per se, if someone is looking for solid, biblically based preaching this is a great place to start. Dr. David Jeremiah is the senior pastor of Shadow Mountain Community Church in a suburb of San Diego. His daily radio broadcast Turning Point is heard across the nation seven days a week on thousands of radio stations.
Founded in 1982, the ministry's international outreach continues to grow in Canada, the UK, across the Middle East, Russia, and Australia and New Zealand, with foreign language translations in ten languages reaching people in India, the Philippines, China, and in Spanish-speaking countries around the globe. The ministry is decidedly evangelistic, seeking to win the world for Christ, one heart at a time.
The sermons are always scripturally based and generally are expository, which means that Dr. Jeremiah breaks apart a verse or a passage to reveal the spiritual truths it contains. This is a great way to study the Bible and the listener feels encouraged and fed by the Word every time they listen.
Dr. Jeremiah's preaching style is very easy to listen to, never overbearing, or holier than thou. His compassion and humility come through his preaching, as he often shares personal stories from his own life to illustrate spiritual truths. His website also features a ton of great self-help resources along with videos, and books that can be purchased as well.
THERE ARE A LOT MORE PODCASTS –
While this list is by no means exhaustive, and I am sure will generate a ton of comments pushing other sites, I wanted to start with a basic seven that could form a good foundation for any man who wants to grow in Christ.
We will update the website from time to time, as we discover other podcasts worth noting. Feel free to send us your favorite podcasts in the comments below.
The important thing for any man is to make the effort to begin improving his spiritual life. Find a mentor or an accountability partner who can encourage you and support your walk in the faith.
Remember, as "iron sharpens iron, so one person sharpens another." (Prov. 27:17).
Save 10% on our IRON SHARPENS IRON tee and all of our apparel using coupon code UNASHAMED...
---