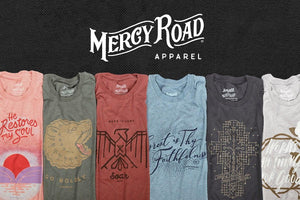 Christian T-shirt Business Spotlight: Mercy Road Apparel
This week's Christian T-shirt Business Spotlight features a brand I just discovered. It is now also one of my favorite Christian apparel brands online. 
Mercy Road Apparel is an amazing artisan Christian tee brand in Montana, owned by Maria Flores.
Meet the owner
With today's technology and demands for mass production, it's rare to find a t-shirt brand that still handcrafts their own products.
Maria Flores is a unique artisan that has chosen to do so. We had an opportunity to speak with Maria about the brand. Here is an interesting look into her journey of developing her online brand of Christian clothing and other apparel...
From the moment Maria committed her life to Jesus, she got onto a new road to begin her journey home. The further she got, the more His way and Words became clear to her. This is the reason she decided to launch Mercy Road Apparel in 2015.
Mercy Road Apparel was born out of Deuteronomy 6:6-9:
"These commandments that I give you today are to be on your hearts. Impress them on your children. Talk about them when you sit at home and when you walk along the road, when you lie down and when you get up. Tie them as symbols on your hands and bind them on your foreheads. Write them on the door frames of your houses and on your gates."
Maria worked as a graphic designer for many years while living in several states.
She returned with her family to Montana, where she resided as a youth. She returned to a place filled with great memories and genuine people who work with humble hands.
According to Maria, "It is wonderful to be in the middle of beautiful nowhere, with a country home, kids to home school, animals to feed, and thankfully, high-speed internet."
About Mercy Road Apparel
Maria creates Christian tees that are trend-conscious, reverent, quality soft, and hand-lettered for a vibe that is uniquely Mercy Road. Many say that believers ought to wear Christian tee shirts to be a witness to others, but Maria is convinced we are the ones who need all the help we can get from God's Word to remind, encourage and direct us daily.
"People ought to want what we've got, right? You know, our attitude, peace, and joy?"

Maria Flores, Mercy Road Apparel
Flores tells us it has been great when she hears from customers who wear Mercy Road tees as they face challenges like cancer, unite other believers on a mission or give them to friends as a form of encouragement.
She uses scripture in her tees because God's Word is life to those who find them.
Humble Hands
Maria said she loves the challenge of crafting hand-lettered typography/illustration. She also loves the advertising aspect and vintage style (so do we). Paired with beautiful wear and tear that comes with time, she finds beauty in imperfections.
She relates these imperfections to Christians who are beautifully imperfect in the hands of a redeeming, refining God.
Maria works with various crafting tools from Sharpie pens, brush pens, pastels, paintbrushes and charcoal, and even borrows her kids' crayons if necessary, in order to achieve the right look for each custom design.
She spends a great deal of time on the specific design to integrate unique type and illustration.
Once her files are prepared for printing, she has them screen printed in limited edition runs by the company Mosaic Threads, in Billings, MT. She trusts their screen printing expertise and knows that her customers will get long-lasting and comfortable graphics.
"I am thankful for previous years of experience as a graphic designer, having already spent hours scouring the sea of blank apparel companies and refining my understanding of the screen printing process."

Maria Flores, Mercy Road Apparel
This allowed her to launch Mercy Road Apparel with the best industry has to offer concerning soft fabric, quality manufacturing, printing methods, and fashion trending styles.
I absolutely love Mercy Road Apparel and also wholeheartedly agree with her final words, "Don't be surprised if the tees we offer make all your other tees jealous!"
You can visit Mercy Road Apparel at https://mercyroadapparel.com/
Bryan E. Robinson is the owner and founder of 316Tees. He has over 15 years as a marketing consultant and has worked with Capital One, AmeriCommerce, FSG, and other companies over the years. Bryan has also built multiple eCommerce brands over the years and is passionate about helping others to achieve their own successes with eCommerce startups. 
---