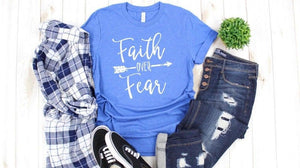 Faith Over Fear T-Shirts: Our Top 5 "Faith Over Fear" Shirts
The Faith Over Fear Shirt had it's strongest year in 2020, But 2021 is starting to be a giant year for this awesome t-shirt.
There's no difference from niche to niche. Faith-based t-shirts like the design "Faith Over Fear" become most popular when the world is in a global crisis and the shirt becomes a way to express they have fight or faith that is stronger than a pandemic, or fear from one.
I reviewed the "Faith Over Fear" shirts at over 100 online stores and marketplaces.
There are hundreds of online websites selling Faith Over Fear t-shirts right now. Unfortunately, there are just a small handful of unique styles out of the hundreds of stores.
Either way, the message is powerful. I love the shirts. So I wanted to review 5 of my top "Faith Over Fear" shirts that are a little different than the majority of the ones for sale online.
#1 316Tees.com - We couldn't find the exact Faith Over Fear t-shirt that we liked most, so we created one. The standard Faith Over Fear tee is a unisex blend for men or women and is super soft. (shown below)
But this shirt has become so popular that we created another version for Jase and Phil Robertson (of Duck Dynasty) and Jase wore the Special Edition Jase Robertson "Faith Over Fear" shirt on the Unashamed podcast, episode 226. We are selling a Military Green edition of that shirt on our site (without the Duck Commander logo of course)
#2 OdysseybyYendi.com - This is another unique design that has Faith on the top line and Fear on the 2nd line. But in this design, the word "Fear" is made out of small lettering that is the 23rd Psalm. Brilliant design and very nice website. Great find!
#3 TheGivenGet.com - The Give-n-Get sells a design that is carried by dozens of sellers. But I do like the Cross in the center of the design, as opposed to the 'arrow' that most of the designs have. I like this design. I like the website. I like the fact that GivenGet uses a size chart and shows the 100% cotton fabric, with a shrink warning. I also really like that GivenGet shows the scripture, Isaiah 43:1 on the product page. Very nice overall!
#4 CleanApparel.com - While most of the Faith Over Fear shirts are designs that cater to women, this design at Clean Apparel is a nice concept and great design for men. It features the word Faith on top of the word Fear, which is upside down like a mirror image. This is a really 'clean' design that aligns with the brand name. My only request would be that Clean Apparel display more information about the type of fabric in the shirts they offer. I would want to know how heavy the fabric is, and if it fits true to size or not.
#5 RustandRuffles-Sugarland.com - This isn't a completely unique design, but is nice nevertheless. The website is clean, and we like it overall. This Faith Over Fear design is distressed and has a tall cross to the left of the words. This shirt rounds out our top 5.
Though a seemingly overused concept, it is nice to see a design like "Faith Over Fear" get the kind of reach that this design has had. This is one great way to spread the message of Faith in a world that is overcome by fear.
If you have a favorite "Faith Over Fear" t-shirt design, let us know in the comments!
HEADER IMAGE SOURCE: BroCoApparel
---