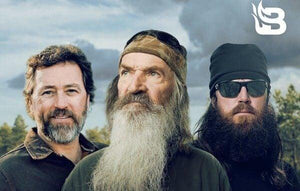 Unashamed Podcast: Phil, Jase, and Al Robertson Discuss Kingdom Life
For 11 seasons, Duck Dynasty was one of the biggest reality shows on TV. Since the end of the show, the Robertson family has taken their fame to a popular podcast called "Unashamed".
What Led Me to the Unashamed Podcast
I remember watching the first season of Duck Dynasty many years ago. From the first episode, I recall how much I enjoyed the Robertson family and all the glimpses into their life and the Duck Commander business.
As with many other fans of the show, I noticed something different about Duck Dynasty. Not only did they gather together to pray over dinner, but they just seemed to have a lot of fun together, and were entertaining without the typical bad language and worldly themes that were common with most "reality" TV shows. 
 During the year 2020, deep into the pandemic, I discovered the Robertsons all over again. This time on the Unashamed Podcast, featuring Phil, Al, and Jase Robertson.
As a dad and husband, I found myself searching for an online Bible study or podcast that wasn't cheesy and boring. I wanted something that I could relate to.
By the time I found the podcast on iTunes there were already over 100 episodes in the library (today there are over 350).
I couldn't have been more pleased to hear these guys on a podcast having real discussions about Jesus. The same authentic family that I enjoyed all those years on Duck Dynasty was now telling personal stories and discussing Kingdom life in a way that anyone could understand. It was definitely the opposite of boring and cheesy.
Since listening to that first episode, I can honestly say (my wife can attest to this) I have been re-energized as a disciple, a dad, and a husband. I have grown more fond of the Robertsons and grown in my relationship with Jesus.
From Duck Dynasty to "Unashamed"
From 2012 to 2017, Duck Dynasty gave viewers an inside look at the Robertsons, a close-knit Louisiana family who had become wealthy selling handmade duck calls and duck decoys. Founded in the 1970s by Phil Robertson, the family business, Duck Commander, makes some of the best duck calls in the world. 
The show profiled their wild, outdoor lifestyle, but it also focused on their close-knit family values and strong Christian faith.
 The show was a hit in its early years. Running for 11 seasons on A&E, it launched a series of spinoffs and millions in merchandise sales. At one point, it was the most watched non-fiction series in cable history.
Despite being cancelled in 2017, the show inspired fierce loyalty among its fans. Tourists still flock to the Duck Commander headquarters in West Monroe, Louisiana, to buy merchandise and take pictures. Given the public's longstanding affection for the Robertson crew, the podcast has been a huge hit.
When Did the Unashamed Podcast First Debut?
In 2018, BlazeTV launched the "Unashamed" podcast.
The show stars Phil and his sons Al and Jase. Each episode is like a practical Bible study, teaching about how to live a Kingdom life in a way that is entertaining and engaging. Since its debut, the podcast has received 375 million views, gets over 4 million downloads a month and was the top religious podcast in 2020.
How Did the Unashamed Podcast Start?
I asked Al Robertson how the podcast started and if he had any favorite episodes to share. 
Al responded, "We were approached by Gaston Moody, the co-president of BlazeTV, about doing a biblical based podcast on their platform. Dad was already doing In The Woods with Phil for them and they thought this podcast would continue to expand their base and it has exceeded all expectations. We started with one a week and gradually grew to the four a week that we do now."
 Al also shared his favorite episodes with us. He replied, "I would probably say the two episodes we introduced Phyllis to the world as Dad's daughter is right up there at the top. It was the most complete way to tell the story and how we all felt about our new found family. I also loved the one we did with me, dad, mom and Lisa. That one was very intimate and personal."
Where Did the Name "Unashamed" Come From?
The show's title comes from a biblical phrase in Romans 1:16: "For I am not ashamed of the gospel because it is the power of God that brings salvation to everyone who believes."
The Robertsons are a great example of living an "unashamed" life. They have all spoken openly about their past mistakes and their struggles in life. In fact, one of the reasons the podcast fanbase has grown like it has is because of their authenticity. 
Unashamed Podcast Episode Format
Each podcast episode begins with a discussion about something that has recently happened to one of the Robertsons or something going on in their lives. The talk then moves around to biblical principles that apply to the situation they're discussing. The goal is to share spiritual insights that apply to daily life while always pointing to Jesus.
The Robertsons say they don't provide answers or solutions. They simply challenge listeners to be open to what the Bible actually says. They urge others to invest time in their own study of the Bible to explore its truths and deepen a relationship with Jesus.
What Does the Robertson Family Say About the Podcast?
Zach Dasher
During the live broadcast, Phil's nephew Zach Dasher recalled many nights sitting around the family room talking about the Bible. He also said Phil still insists on evangelizing to people, including tourists who visit the Duck Commander headquarters.
As he explained it, "The many, many years spent in Uncle Phil's living room, watching him disciple people. If we could capture that in a podcast, we might be onto something that could be very powerful."
Jase Robertson
Arguably the most entertaining of the trio, Jase has told stories about dozens of bats infiltrating his home, sneaking over to Willie's pond to catch giant crappie, and infuriating Uncle Si by beating him at Texas hold 'em almost every time they play.
But Jase also has some of the best spiritual insights as well. He loves to start a spiritual conversation asking three basic questions, "How did you get here (earth)? Why are you here? How are you leaving?" This always gets people thinking, and allows for an introduction to Jesus.
Al Robertson
Al is basically the quarterback of the podcast. He steers the conversation and is a great complement to this group. It doesn't hurt that Al has the best radio voice of the three.
On one episode, Al Robertson told Phil, "Observing you, Dad, over my life, it's clear that you're passionate about two things: Ducks is one, and sharing Jesus is the other."
Phil Robertson
In an interview with the Christian Broadcasting Network, Phil noted he is a total Luddite who has never owned a cell phone or clicked on the internet. "And now I'm on the internet and I have never owned either device," he said. "That's pretty interesting when you think about it."
Even though he doesn't have a cell phone, Phil does admit he appreciates all the people with cell phones who are able to tune in to the podcast. 
The "Unashamed Nation" Audience
At one point during an episode, Phil, Al, and Jase were talking about the fans of the show. While they bounced around several ideas for their fanbase, the one that stuck was "Unashamed Nation".
One of the fans of the show, Steve Lewis, started the Unashamed Nation facebook group that has grown to over 20k fans. 
When we asked why he started the group, Lewis said, "I started the Unashamed with Phil Robertson podcast facebook group because I wanted to have a little quiet oasis for fans of the podcast.
I had been in Christian facebook groups before and was amazed at the chaos, people arguing over every imaginable nuance, every little difference was scrutinized."
Lewis went on to say, "So I wanted something different, and through God's help we've put together a fantastic group of believers who edify each other, lift each other up, and truly epitomize one of Phil's favorite sayings, 'Love God, and love your neighbor.' I'm very glad God allowed me to be a part of this."
The group is moderated by Lewis and Tonya Anderson. If you are interested in joining, you can request to join here.
A Letter from an "Unashamed Nation" Fan
Al Robertson told me they get hundreds of encouraging notes from fans every week. He shared this one recently and said it echoes a lot of what they get from fans. Here is an excerpt from that letter:
"Hello. Al, 
This is Pat (Patricia) from Roanoke, Virginia.  I'm a retired art teacher who has had 30 wonderful years in the classroom.
I've been attending our church's virtual service, here in Roanoke, since the virus set in.  It's a wonderful thing. I sit on my front porch overlooking the Blue Ridge Mountains.  How much better could it be, listening to God's word in His mountains.
I was on YouTube in May of last year and just happened upon your programs.  I truly think I was led there.  Thank you guys so much for doing the podcasts.  They have become my nightly devotionals...
Just wanted to drop you a quick email to tell you how much I appreciate the programs.  They have become an integral part of my day. I watch one podcast every evening just before tucking into bed...
I felt led to let you know how much your podcasts mean to me, and to encourage you guys to keep producing them! 
God Bless you and the entire Robertson Clan!""
How to Contact the Unashamed Podcast
You can reach the Robertsons by emailing them at events@restorationproductions.net. Restoration Productions was started by Al Robertson and his nephew Zach Dasher, who produce "In the Woods with Phil" (starring Phil Robertson) and several other projects.
Unashamed Podcast Merch
Official Merch
Where can you find Official Unashamed Podcast Merch? At the Blaze Media store. There you will find Unashamed t-shirts, coffee mugs, hoodies, and more! If you want the Official merch, this is the only place to get it!
Other Merch (Unofficial)
316Tees also carries several shirts that have been worn on the podcast and have become Unashamed Nation favorites, including the "Faith Over Fear" special edition t-shirt and "AD 33". We are humbled that these shirts were worn by the cast and Unashamed Nation, but it's all Jesus.
The "5 Gospel Symbols" design (pictured above right is our Camo edition) was originally created by Bill Smith, who led Phil Robertson to Christ many years ago. This design has also been adopted by White's Ferry Road Church (the Robertsons' home church) in Monroe, LA.
100% of "5 Gospel Symbols" net proceeds are going to the One Kingdom ministry which funds missions around the world.
Final Words about the Unashamed Podcast
The Robertsons say they hear from countless listeners that listening to "Unashamed" has made them more open to seeking a relationship with Jesus.
When asked what his goals for the show are, Phil answered, "We're trying to do two things. We want to get people to love God and love each other because we don't see the downside of that."
The Unashamed podcast has become a platform of truth. 
According to Jeff Anderson of the Hope Report, the show has the deep insights of religious people but also has a down-to-earth manner that would make it accessible to people who are new to religious belief.
"The Bible talk is tempered with really engaging and funny stories," he writes. "It's basically Duck Dynasty with a bible study in place of the evening meal segment."
I've listened to 359 episodes of the Unashamed Podcast so far, and I can easily say it is my favorite podcast hands down. This family is authentic. They love Jesus. They sincerely want to point others to Jesus. Not just on the Podcast. But every day of the week.
The "Unashamed" podcast airs four times a week. You can listen to the show on Apple Podcasts, iHeartRadio, Spotify and the Blaze TV website.
---
6 comments