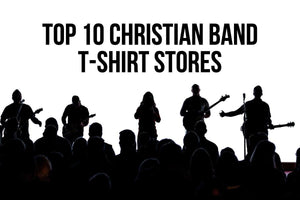 Top 10 Christian Band Shirts [2022]
Christian band shirts and merch are hard to come by unless you are fortunate enough to buy them at a concert or event. And not surprisingly, band t-shirts and merch is extremely popular by the millions of fans of Christian contemporary and rock bands.
We have compiled a list of our Top 10 Christian Band Shirts stores online. Since we always want to promote any new bands, or smaller bands, if you are a band (or know of Christian bands) with some great Christian tees, drop a mention and link in the comments.
1. Toby Mac | Christian Band Shirts
- Toby Mac has been one of our favorites for many years. He continues to produce great music and perform like he's in his 20s. Not only that, but he probably has the largest and best selection of Christian apparel of any other Christian band online. We highly recommend checking out his store!
2. Skillet | Christian Band Shirts
- Skillet is a Christian rock band that started in Memphis, TN in 1996. They have consistently been at the top of the Christian music charts for years. They also show up in the secular music charts and on regular radio, which I think is great. Skillet has a great selection of hard rock-style tees.
3. Mercy Me | Christian Band Shirts
- Mercy Me is one of the most well known Christian bands ever. thanks to the movie "I Can Only Imagine". But I recall hearing "I Can Only Imagine" on secular radio some 17 years ago. It was amazing to me because this was no mainstream song sung by a Christian artist. It was a powerful song that pointed directly to Jesus Christ. The "I Can Only Imagine" shirts are available at Mercy Me's store.
4. Newsboys | Christian Band Shirts
- Another amazing band who is most famous for one song, "God's Not Dead". Although this song and story inspired multiple movies, the Newsboys are far from a one hit wonder. They have release 17 studio albums, including 6 certified gold. The "God's Not Dead" and other t-shirts are for sale at their store.
- The Sidewalk Prophets have a new album, "The Things That Got Us Here" coming out in May 2020. SWP has toured with Jeremy Camp, Audio Adrenaline, and others over the years and are a solid Christian band. They usually run some big discounts on their t-shirts, so check them out.
- For King & Country was started by two Australian brothers, Joel & Luke Smallbone. They have a great sound and some great merch as well.
7. DC Talk | Christian Band Shirts
– DC Talk is a blast from the past, started by Toby Mckeehan (Toby Mac). The band has been reunited of late, and has some plans for an upcoming reunion tour. I love the style of DC Talk's tees and merch.
- These guys are from Palm Beach County, in Florida, which is also where their name originated (from a road in Palm Beach). Tenth Avenue North is planning a farewell tour soon. Get their merch while you can.
9. Lecrae | Christian Band Shirts
- Lecrae is an American hip-hop artist who also happens to own a record label, among many other talents. I heard him speak at a Ravi Zecharias apologetics event and this man is anointed. Great music and great t-shirts and merch.
10. Building 429 | Christian Band Shirts
- I really enjoy the music of Building 429. Their name comes from Ephesians 4:29 ""Do not let any unwholesome talk come out of your mouths, but only what is helpful for building others up according to their needs, that it may benefit those who listen." Great band with some great apparel and merch.
---
2 comments